Two things that are inevitable. At least they are in my life. It's on my mind today.
Two weeks ago, hubby's brother passed away. I only ever knew him as "Junior". He was 86 and not in good health so not totally a surprise. But still. Now there are only two brothers left. His oldest brother who is 92 and hubby who was the youngest of 7 children.
Saturday, hubby's ex passed away. Again, not in good health & we had been expecting it with her. But it's hard because she was the mother of his girls. So, lots of family drama going on with that.
Then there's my good friend & knitting buddy, Georgia, who just learned she has leukemia. And she doesn't have health insurance. Our local group is taking up a collection to try to help her with expenses. She's about my age & just the sweetest & cutest gal I know. She looks like
Michaela Conlin
who plays Angela Montenegro on the TV series Bones. I'm serious! She is adorable! She's been sick for probably a year. One thing and another but this time it looks bad for her. It just breaks my heart. She hasn't been able to come to knitting group in months and months because she's been battling one cold after another.
On a brighter note....my daughter gave me a pair of gorgeous earrings for mother's day. They're Stella & Dot brand which she tells me all the celebs are wearing. Whatever...I love them.
We had a family get together on Saturday for Memorial Day & a late mother's day celebration. It was so nice to get the kids up here for the day & stuff ourselves with smoky brisket that melted in your mouth & sweet, crisp corn on the cob.
I frogged the Sunrise Socks. Somehow once I had learned how to do toe up socks & knit two at a time on 2 circs that I was bored to tears with them. I just can't love socks no matter how many times I try. The toe & heel are fun. The rest is just boring! So, then I tried to let the yarn become a Clapotis but I made it too wide & was going to run out of yarn. Although, I knitted on in quiet denial for a couple of days. So, it was frogged again. I guess that yarn doesn't know what it wants to be.
I started a Clapotis scarf with a
KAL group on Facebook
. I'm using sock yarn & it's fun to drop the stitches. I am about halfway on it.
The Rambling Rows afghan is about 30% completed. It's ok. But another very boring knit. Plus, I'm not loving how some of the squares are coming together at the corners. I'm seriously considering frogging it & starting
this one
.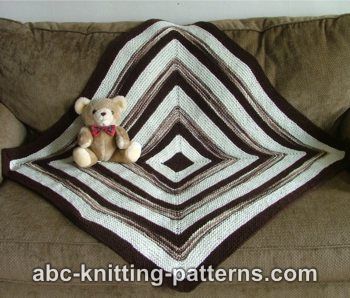 The Diamond Lace scarf has about 10 rows to completion. I think I might have gotten off somewhere in the first lace section but I can't really tell until I get it off the needles & block it out. It's still pretty I think.
I am almost ready to start focusing on designing a sweater. I have some really great ideas & I am itching to find a few days of quiet time that I can devote to it.
Yesterday I made a really cute suncatcher from melted plastic beads. Really! It turned out pretty cute but I need to make 2 more before I put up a picture.
One more thing....we're going to have a scarf swap on LSSK. So, if you're interested & if you're a member run over there &
sign up
.
Ok...that's it for now.